Why is it that stunning properties may often be surrounded by gardens that are mediocre at best and completely uninspired at worst?   It can't be that we aren't interested in gardens, because we are a nation of gardeners; we have the Royal Horticultural Society (RHS), the National Gardens Scheme and the Chelsea flower show is arguably the most famous garden show in the world! It can't be that we aren't interested in good design and style: many of our properties and the interest in Andrea's blog and website clearly illustrate that.  Maybe we think it will cost too much & won't add enough value to the property to justify the expenditure or perhaps we believe it will be too difficult to maintain or the weather isn't good enough?  Whatever the reasons, there are a multitude of good reasons why it is worth investing in a well designed and managed garden that surrounds your property: with that in mind, here are my top 5 reasons for making our gardens sing out loud!: 
1.     First impressions count
As with many things in life, first impressions count and the outside space is not only on view, but is the first aspect of the home that you physically experience on visiting a property.  Why wouldn't you want a garden that reflects the quality of the inside space and sets the scene for what is beyond it -the inside-outside philosophy?  With that in mind it is a good idea to consider your preferred style of garden (e.g. formal; modern; cottage etc.) and how that fits with the house and its décor.  The front garden may only be small, or it may need to accommodate parking (which may require planning permission if the paved area is greater than 5m2 unless it is permeable paving or if the water is directed to garden areas where the water can soak away or stored) but this shouldn't exclude a simple, well-designed and maintained front garden.  The note from the editor in the April 2013 edition of Gardens Illustrated magazine mentions that they had looked through hundreds of images to find their cover shot of an attractive and interesting front garden which goes some way to explain why the edition is looking at focusing upon interesting designs for this often overlooked area of the garden.
2.     The opportunity for more 
One of the huge benefits of a garden is the opportunity to extend the living space and provide areas for additional activities: this may include areas for children to play; areas to entertain and dine; an outside larder with the growing of food, including herbs, with outside ovens and outdoor fireplaces etc. as well as more natural areas to attract wildlife, including wildlife ponds.  You may want to include an outdoor office or a summerhouse if you have the space.  Even with the current winters we are experiencing, people are wanting to be able to get more from the garden throughout the seasons, such that they can experience color and fragrance in the garden, even in the winter time.  Plants such as Cornus & Salix provide beautiful coloured stems (e.g. Cornus alba 'Elegantissima') in winter – stunning with the sun shining through them when the leaves aren't on the plants whilst Sarcococca (Christmas box) provides the most exquisite fragrance if planted near to doorways and Mahonia provides yellow flowers with a scent of lily-of-the-valley.
When planning your garden, think carefully about what you really do want to include and where it is best placed for convenience and light.  For example, if growing food and herbs, they will need a lot of sun so placing them in a shady corner wouldn't work as well as a sunny courtyard area.   You may need to be realistic about how much can be fitted into the space: don't forget that in a small space, it is better to have enough space for what you do include than trying to cram everything in as this can look cluttered and be impractical.  That said, there are some great ideas for optimizing your space including half size storage devices and growing vegetables & flowers together.  If you are employing a landscape designer to help you realize your vision, they will most likely work with you to develop a functional diagram to help establish the best location for each element prior to designing the overall layout and the greater detail.
2 Images from Houzz site: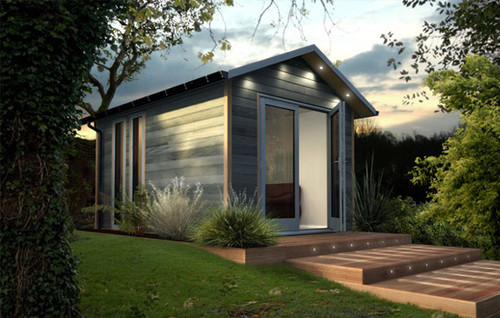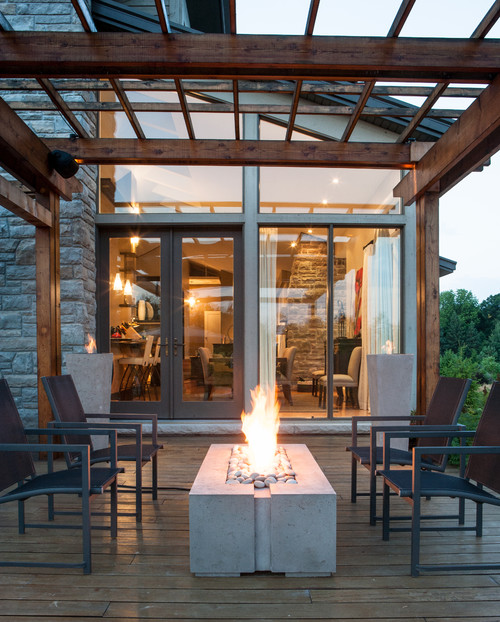 3.     A room with a view
Most of us have a clear view of the garden from the house, be that from upstairs and downstairs windows or from expansive areas of glass that opens out onto the garden to give us a great vista.  Therefore, isn't it important that the view is as good as it can be? And that the garden is thoughtfully designed; perhaps enticing you in by shielding the whole scene from view; but clearly eluding to something more.  It could be that the garden links to a wider, beautiful landscape within a country setting and therefore, with careful thought, the view can be borrowed and framed.  Alternatively, the garden or courtyard maybe very overlooked, in which case, you may need to provide boundaries and planting to diminish the impact of surroundings.   It is interesting to note that small Japanese courtyards are often designed to be viewed solely from the building; almost as works of art.  One aspect that is worth considering when viewing from the house is the opportunity to plant for the changing seasons.  That is not to say that you want to cram a small space full of plants to cover every season but you may want to consider the times of interest of the plants you select and perhaps in a small space you may want to ensure that key plants have more than one season of interest.  For example, if you can have space for only one small tree then perhaps ensure that it has spring blossom/flowers and good autumn colour such as Amelanchier lamarkii.  The view from the house means that even when it is cold and wet outside you will be able to experience something of the changing seasons so it is worth considering how the garden will look throughout the seasons & where the interest should be; having different parts of the garden looking good at different times is one way of achieving year round interest.
4.     Put a spring in your step!
There have been numerous scientific studies conducted that show the therapeutic value of gardens & gardening on our mental health and wellbeing.   Our gardens can offer a welcome place to experience nature; to relax and contemplate or to entertain with friends.  In addition, gardening offers a great form of exercise and opportunity for recreation; especially for children and it gives us all a chance to get close to the soil and the environment.   Gardens that have areas for food growing offer additional health benefits in the form of fresh salad crops, herbs, vegetables and fruit-they just taste so different!  Gardens designed with consideration of their sensory value have added therapeutic benefits, including scented plants like lavender; roses, orange blossom and honeysuckle; textured materials including, felty and waxy planting; the texture of different materials such as stone and wood is also worth considering as well as those that create noise e.g. the rustling and swaying of bamboos, the sound of wind chimes or the running of water.  Colour, a strong visual stimulant also needs careful consideration in the garden, as in the house, effecting the mood and feel of the garden (as well as those that use it!): using muted colours including silvers greens, blues and whites has a calming effect whilst oranges, reds and purples are rich energetic combinations.
5.     The grass is always 'greener'  
My last reason for ensuring our gardens are well designed and managed is for their contribution to the wider environment.  Through the careful use/reuse of materials (for example using reclaimed wood or that which has FSC-certification) and the meaningful selection of plants that are right for the soil and light conditions (so-called right plant right place) as well as the inclusion of native species, it should be possible to attract a variety of wildlife to your garden, and contribute to the wider sustainability agenda.  Plants that have berries such as mayflower and elderberry are natives that provide a useful food source for birds whilst plants such as lavender, coneflower, sedums and Verbena attract bees.  There are multiple benefits of attracting wildlife, including their contribution to the economy and encouraging biodiversity.  If space allows and it is appropriate to the site, a wildflower meadow could be created from seed on a low nutrient soil, providing color and interest as well as attracting a range of beneficial insects.  Reusing materials is both good for the environment and for our pockets and effective management of water on sites through rainwater harvesting or perhaps having a green roof on a shed or out building which will both attract wildlife and act as a sponge to help water management, albeit on a small scale.  It is also worth noting that by considering the environment when designing your garden and how the garden will evolve, it is likely that your garden will be more easily managed and maintained, providing its management and maintenance is considered as the design is evolving.   Whether you want to create an eco garden or just utilize some of the best practice ideas within another style of garden, you will be contributing to the green agenda.
I hope that these reasons have helped to convince you that, in addition to the house itself, the garden has an important part to play in creating that wow factor for your property!  If you would like to follow more of my blogs about garden and planting design you can do so on my website:  www.poppyheadconsultancy.com